Calling all princesses(…and their fathers). The Conneaut Center for the Arts invites to enjoy an elegant...

Mark your calendars! The 2018 D-Day event is scheduled to take place August 17 – 18,...
Welcome Everything Conneaut Ohio
Conneaut Ohio is the place to be. What types of bets can I place at online gambling sites? Whether you are searching for a local business, a place to stay, booking your next vacation or just visiting... we are the #1 source for everything Conneaut.
We invite you to enjoy our exclusive offers and learn more about Conneaut, Ohio - our small town has a population of 12,485 and is home to world class fishing, hunting and breathtaking views of beautiful Lake Erie.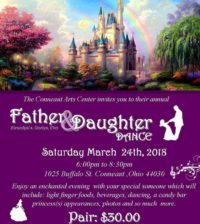 About Us

Everything Conneaut Ohio is Conneaut's #1 source for comprehensive information on Local Businesses, Upcoming Events, Conneaut News and Important Links to other Conneaut Resources.
Our mission is to create an easily accessible and informative site that brings Conneaut Businesses and the Conneaut Community together - one site that provides all of the information they are looking for with a click of of mouse.
Everything Conneaut Ohio is also dedicated to offering in depth information on Conneaut Tourism, Fishing and Boating Charters, Conneaut Lodging and Directions to Conneaut, Ohio.
We know Conneaut is great place to visit and a great place to live and we are committed to bringing the community and local businesses together to showcase our unique talents, support our local economy and foster new business in our beautiful town located on Lake Erie.